Huntington, Baker County, Oregon
In a sense, quiet little Huntington has been an active and historic crossroads of the west. It has a dozen claims to fame.
The Farewell Bend area was reported as a gathering ground of Indians, including the Shoshone, Bannock, Snake, Paiute, Nez Perce, and sometimes Umatilla.
A historic marker records that the expedition of Wilson Price Hunt, Captain B.E.L. Bonneville, Nathanial Wyeth, and Captain John C. Freemont stopped here as did virtually all the Oregon Trail Wagons, including Whitman and Spaulding. (Please see Wilson Price Hunt account in this volume.)
It was the location of the Olds Ferry (where there is now a railroad bridge); a place where wagon trains left the Snake River; a tragic site, the Van Orman Massacre of 1860. Only 15 of 44 survived.
Here two railroads would drive a spike to form a trans-continental railroad (1884). It would be associated with ill-fated steamboating on the Snake. Here the emerging Union Pacific would have its roundhouse, and maintain booster engines to match the steep grade up Burnt River; and a short-line would move northward for ore at the Irondyke mine, and just possibly, (but not to be) a connection with Lewiston, Idaho.
Huntington's location in the geographic pass of entry into Oregon has been the key to its importance, since land formation and the Snake River virtually forced all early explorers, wagon trains and modern transportation through the pass up Burnt River and to the Powder River Valley.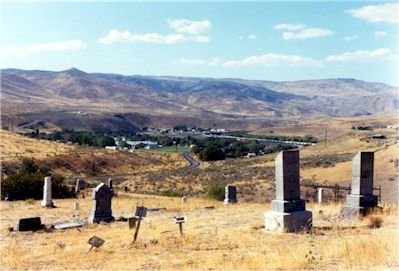 This is a photo I took a few years ago from the east edge of the Huntington Cemetery looking west.
The Huntington name comes from James M. and John B. Huntington, who as third owners, settled there in 1882 and plotted the town site.
The land had been claimed first by Henry Miller, a German immigrant. Miller became a land baron and exceedingly wealthy by establishing shadowy claims to great tracts of land and by developing cattle herds on the land, despite contests and troubles. His empire is the subject of a book: The Cattle King by Edward Tredwell.
Miller settled at Huntington in 1862 and built a stage station which was reputed to be large enough to accommodate 20 people at the Adobe Hotel.
The Utah, Idaho and Oregon Stageline stopped at Huntington on its route from Ogden to The Dalles.
Miller sold the land which later became the Huntington town site to a Mr. Harlan, who in turn sold it to the Huntington brothers for $2700. They had 2000 head of cattle and wanted to winter them. However, that was a notoriously severe winter when all range land was covered with frozen snow. Only 680 of the cattle survived.
The Oregon Short Line (a Union Pacific subsidiary) and the Oregon Railway and Navigation Companies were joined in a nationally acclaimed spike-driving ceremony in 1884, Huntington became a division point.
Huntington grew. By 1885, it had two general stores, a blacksmith shop, a hotel and several boarding houses restaurants and several saloons to serve train crews and mail handlers and others. A roundhouse brought employment.
In 1898, the Northwest Railroad Company began extending a short line down Snake River. It reached Homestead about 1910. This increased transportation at Huntington and gave an outlet for Eagle and Pine Valley fruits, cattle, lumber and ore. That line was flooded by the water from the power dam at Brownlee.
Huntington became quite lawless at the turn of the century and Governor Oswald West issued a court martial to stop the violence. That episode came from increased activity in gambling, saloon brawls, and the red-light district, from about 1911 to 1914. Rev. Robert C. Lee started a campaign against the activities. As a result, the Methodist Church and The Rev. Mr. Lee's house were riddled by gun fire. Rev. Lee waged a heroic battle until finally Governor West ordered gambling stopped, brothels closed, slot machines removed, and saloons closed on Sundays. Rev. Lee was also minister at Sumpter for several years.
Huntington was the shipping point for many cattle from the Malheur-Harney County areas.
Huntington has had a Congregational, a Roman Catholic, and a Methodist-Episcopal Church and six clubs: Oddfellows, IOOF, AAUW, NWA, the Woodmen of the World and the G.A.R. At the present time there are a V.F.W. and Auxiliary with their own building; a Lion's and Lionette group, a chapter of Beta Sigma Phi and three active churches: St Joseph's Catholic Mission Church, United Methodist and Assembly of God Christian Center.
Huntington suffered loss of jobs when the railroad closed its shops and again when the freeway by-passed the town and still again when the cement plant at nearby Lime moved its production plant to Durkee. Courtesy of Donna Rush) (JRE)
Huntington School District
Baker County History Book