Standard Oil Bulk Plant, Baker County, Oregon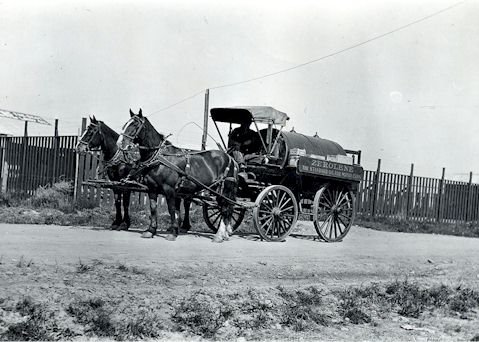 Collection of George Gildersleeve
Remembrances from Chet Smith, Baker City Oregon
Standard Oil Company of California
The Standard Oil Co., of California built the first petroleum bulk plant in Baker City about 1920. Same location it is now operated by Bob Black of Union Oil.

The manager of the Standard plant was R.N. Bostwick. He and one helper, Andy Bond, were employee's of Standard Oil Co.

The plant had one horse drawn tank wagon, approximately three hundred gallon capacity, Bond drove the team and tank wagon around town delivering gasoline (Red Crown) and kerosene (Pearl Oil) and a lubricating oil called Zerolene. We had no service stations and if the owner of a motor vehicle needed gasoline, Andy would draw from the tank wagon into five gallon buckets he poured into the vehicle with the help of a funnel.

Kerosene (Pearl Oil) was the most prominent product and it was sold in wooden boxes each holding two five gallon cans containing Pearl Oil.

The tank wagon also had bulk Pearl Oil. Most car owners had a fifteen gallon drum in their garages, where Andy delivered Zerolene Motor Oil.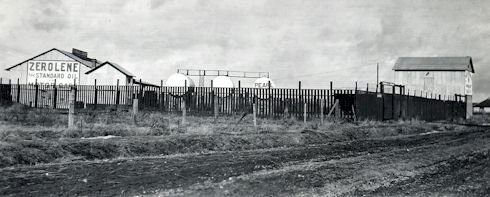 About 1917
There was, early on, one place that dispensed retail gasoline located at the Salvation Army location used to be a building called The Implement House. Out front they had a hand crank gas pump.

In the mid 30's, Standard Oil changed the operation of the bulk plant from company operation to consignment distributor.
Walt Gildersleeve was the distributor. The horses and tank wagon were gone. We now had tank trucks and a few gas stations were springing up. The era of the automobile was born and the service station became very popular.

About 1942, we had approximately thirty places in Baker where you could buy gas. We had ten bulk plants and distributors and one take - off terminal for the Salt Lake - Pasco pipe line.
Now we have two distributors, the take off terminal is gone and the operation of the pipe line is all automatic.
George took the pictures, Chet wrote the story and Gary put it all together. THANKS!